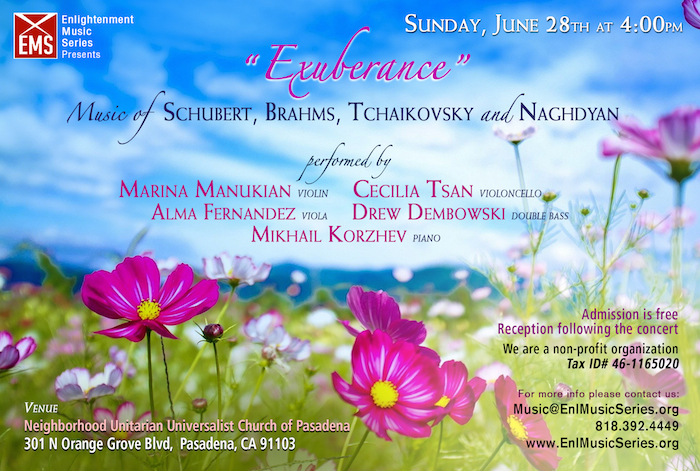 Please join us for the Enlightenment Music Series 2014-2015 season's final concert "Exuberance" an uplifting and delightful program performed by Marina Manukian, Cecilia Tsan, Alma Lisa Fernandez, Drew Dembowski and Mikhail Korzhev.

Program
Brahms – Sonata for violin and piano Op.108 Tchaikovsky – Andante Cantabile for cello and piano Schubert – "Trout" quintet Naghdyan piano trio (US Premiere).

Our Contact: www.EnlMusicSeries.org or (818)392-4449
We hope to see you all! Thank you!!
 Neighborhood Univeraalist Unitarian Church of Pasadena 
         301 N. Orange Grove Blvd, Pasadena, California 91103
Admission is Free and reception following the concert.
Your Donations to the Enlightenment Music Series Are Greatly Appreciated!
Enlightenment Music is a Non-Profit Organization (Tax ID # 46-1165020)

---
Video from our free concert on December 23, 2012…..